Gorilla Tracking & Hiking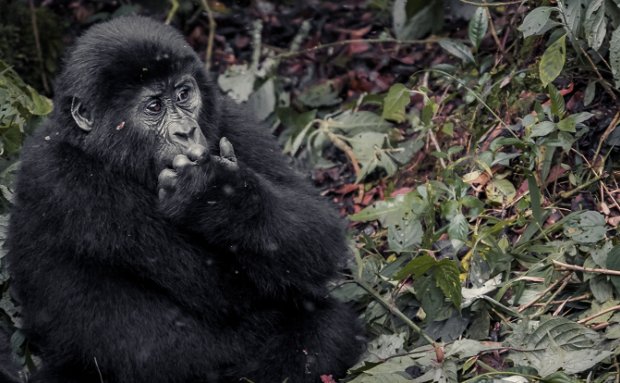 Trek the mountain gorillas in Mgahinga
Looking for a gorilla  trekking permit, contact Amajambere Camp and our staff will get back to you as soon as possible with details on how to obtain a gorilla trekking permit.
Amajambere Community Camp is a perfect location for overnight stay en-route to the mountain gorillas. The camp is located right at the main gate of Mgahinga Gorilla National Park, which is the starting point for gorilla tracking. Most clients prefer staying at our camp instead of spending the night in Kisoro town. This gives the guests more sleeping time and have breakfast before starting the gorilla trek.
Gorilla Tracking in Bwindi National Park
Interested in tracking the gorillas in Bwindi National Park as opposed to Mgahinga, it is possible to stay at our lodge and drive to Bwindi for gorilla tracking very early in the morning. The southern sector of Bwindi is about 35Kms from Amajambere Camp (2hrs drive).
Golden Monkey Tracking in Mgahinga
Mgahinga Gorilla National Park is one of the few parks in the Virunga massif that offers golden monkey trekking tours. Other parks with golden monkeys are Virunga National Park in the DRC, Volcanoes National Park in Rwanda, Gishwati and Nyungwe forests in Rwanda. Golden Monkey tracking is almost getting traction as the mountains gorillas as more and more tourists are coming to Mgahinga to see the primates. Interested in golden monkey trekking, contact Amajambere Camp for details.
Golden Monkey Experiential Tourism
Tourists visiting Mgahinga also have a choice to track the golden monkeys that are undergoing a research study. The research is being conducted by Mrs Sandra Gray in close collaboration with Uganda Wildlife Authority and Mgahinga Community Development Organization. The tour knowns as "Golden Monkey Experiential Tourism" will take you to the lush forests of Mgahinga where you learn about the behavioral traits of the monkeys such as feeding habits.
Hiking the Virunga Volcanoes
Mt. Sabyinyo (the old man's teeth)
The best choice, based on reviews from hikers, climbing the "old man's teeth" takes about 8hours. The mountain has three peaks, with different levels of difficulty. Because of it's rugged nature, there are several wooden ladders along the hiking trail. The third and final peak is where Uganda, Rwanda and the DRC share the boarder.
Mt. Muhabura (the guide)
Overlooking the Kigezi highlands, Mt. Muhabura stands among the three volcanoes dotting Mgahinga Gorilla National. The 4,127m high volcano has a creator lake on top. Once at the top of the volcano, the rest of the Virunga mountains (Mikeno, Karisimbi and Visoke) are visible in a distance.
Mt. Gahinga (small pile of stones)
A favorite to many hikers perhaps due to it's low altitude, hiking Mt. Gahinga takes you through the lush vegetation cover of Mgahinga National Park. The 5-7 hour hike goes through several vegetation zones, including bamboo cover. Upon reaching the top, the cool air and the breeze from the giant lobelia in the creator swamp is so fulfilling.